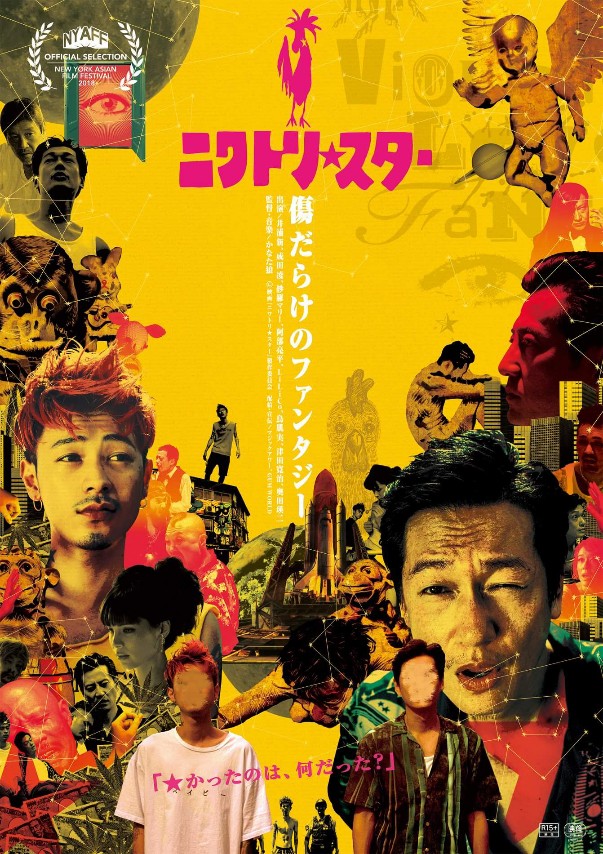 なんと!!!
映画 『 ニワトリ★スター 』 が、第17回ニューヨーク・アジアン映画祭オフィシャルセレクションに選出されました (*≧∀≦*)

かなた狼監督のデビュー作♪
日本からは14作品が選ばれましたが、先日カンヌでパルムドールを受賞した是枝監督と肩を並べてです!!!

海外版タイトル『 Smokin' on the Moon 』は、7月10日(現地時間)にプレミア上映予定です。

そして本日!!!
皆様からの声が集まり、この『ニワトリ★スター』がリバイバル上映されます!

東京公演@TOHO シネマズ六本木ヒルズ
港区六本木6丁目10-2 六本木ヒルズけやき坂コンプレックス内

18:00から一部として、監督とキャストのトークショー

本編上映後に二部として主題歌のライヴもあります。

発表後あっという間に100枚は売れてしまいましたが、当日券も出るようなので、見逃したかた、またもう一度ご覧になりたいかたは是非六本木ヒルズへ (*´∀`*)ノ


ニューヨーク・アジアン映画祭サイト
http://www.nyaff.org/nyaff18/films

Our first feature film, "Smokin' on the Moon" has been chosen among the official selections for the 17th New York Asian Film Festival, which starts from June 29, 2018!

The film has been selected for its remarkable quality and uniqueness despite that it is restricted to viewers over 15 years old and that it is the very first production of the director Kanata Wolf.

The film has been greatly sympathized by young Japanese audiences. Now, the film is expecting how it will be reacted by International audiences at the coming film festival!

The premier screening of the film "Smokin' on the Moon" is planned on July 10, 2018.